"Agrauxine shares the same vision and values as my grandfather, which is why I am so very grateful to spend my days sharing safer biological seed treatment and bio nutrition products with our customers." 
— Ryan Pottinger
Regional Sales Manager for


Indiana, Ohio and Michigan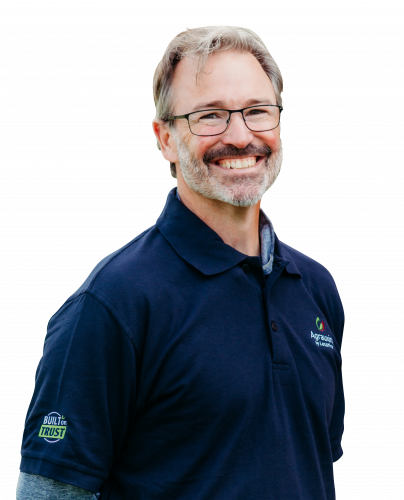 Agriculture has always been an important part of my life. Growing up on our family farm in Yorkville, IL – we had a traditional working farm with chickens, hogs and cattle along with corn, beans, oats and summers bailing hay. My Grandfather, who owned and ran the farm, was a chemist turned farmer, bringing a unique perspective to creating sustainability on our farm. We would discuss the importance of soil health and how microbiology played a role in plant health and the future of farming.
I hold a B.S. in Finance and spent the better part of a decade and the start of my career managing equity and real estate products. I later branched out on my own to start and grow several small businesses that I later sold. I always had an eye to leave the corporate world and get back to my roots in Agriculture.
Sustainability on the farm and growing better crops has always been a passion of mine. My previous roles focused on fungicide and insecticide seed treatments; however, my grandfather warned me about the trade offs of using hard chemistry and their effects on plant health. Agrauxine shares the same vision and values as my grandfather, which is why I am so very grateful to spend my days sharing safer biological seed treatment and bio nutrition products with our customers.
In my spare time, I enjoy woodworking, cooking, pheasant hunting and exploring rural America.
Ryan Pottinger is the Regional Sales Manager for the following states: Indiana, Ohio,  Michigan and Wisconsin.